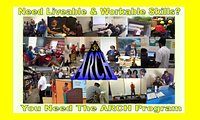 MAIL DONATIONS TO
EXPRESS H.O.M.E. PROGRAM
(MEMO) THE ARCH PROGRAM
366 SANDY CROSS RD
LEXINGTON, GA 30648
For this to be a free program for those in need we need your help to provide scholarships....Please donate today
Remember for more information just email: expresshomeprograminc@gmail.com
Summary of the " ARCH " Program?
A Project Base Learning Program that provides a series of community service projects to teach many life skills indirectly
Video Redirection was purposely designed for teens/young adults to do while they are in detention. Participants learn all phases of video production as a career field and are redirected in the behavior or infraction that lead them to detention. Puppets are used.
Community Service Projects and PSA's can be developed and researched with the intent to carry out a project once released. Organizational skills, budgeting, team building, networking, collaborations, and communication are some of the skills indirectly are taught.
Everyone will participate in the 6-week basic training process with basic life skill trainings.
After the assessments are made each participant life skills needs will be verified and incorporated into their training folder. Afterwards other behavioral modification projects will be offered in conjunction with the basic training.
They will have the opportunity to either do a PSA Community Service Project or be entered into the Video Redirection Program
Programs will be developed by need
ARCH-Achieving Reachable Challenges & Heights
The Arch Program was developed to help underserved teens and young adults either in special education or have graduated from one. The purpose is to ensure they have all of the tools to become productive adults. As we were reserching to make this the best program around other stand alone programs has grown from it. Below are a few programs we have presented.
Life Skills-after the original assessment we will know what life skills are needed and they will be incorporated into their entire program. This could be but not limited to cooking, driver's education, budgeting, grocery shopping etc., (This is the plus)
Job Placement-On the job training or 6-weeks, extended if needed.
Job Coaching-Once the participant has been placed in a job, our team will provide job coaching if needed
Through this component of training we would like to offer on-site training programs within the detention and/or residential facilities

Provide pre-release services and relationship building while young people navigate returning home while still in placement.

Continue the program as needed once released
Anger isn't the problem; it's knowing how to deal with it.
Through the ARCH Program we will teach how to cope with anger and how to express it in a socially appropriate manner.
The ARCH Program will establish behavioral guidelines, and positive solutions.
ARCH will work on the basics as well as self-redirection, below are a few of the key components to self-redirection
To have an ARCH Training Facility throughout the USA is our ultimate goal. All of our services for each area will be housed in this facility. To date we have 3 locations with 2 training facilities.
The difference, with this facility we will be able to house our own job sampling site, plus everthing below
Education is the Key
Gaining the tools for success:
Learning needed life skills
Returning to school
Gaining employable skills
Family Support
Anger Management
Disability vs. Disabled
Job Search Techniques
Job Training
Maintaining a job
Budgeting and banking
Utilizing resources
Resume Writing
Making the Switch
Untraditional Fields
Being Present
Attitude & Respect
Owning a Business
And more……
If you would like to know more information on any program email us at expresshomeprograminc@gmail.com
Basic 6-Week Program
1st Week- Introductions, Assessments & Evaluations
2nd Week-Start Wok Readiness Program
3rd Week-Career Exploration
4th Week-Community Service Projects
5th Week- Work Sample Presentations
6th Week-Dressing for Interviews
This can be extended to 8 Weeks if we need to slow down for our participants.
ARCH has several training programs for high school students. There are specialized program for but not limited to; students that are in fostercare, pregnant & parenting teens, DJJ and those enrolled in special education and/or any local alternative schools in the areas. Every program will also be open for referrals and students that has graduated from a special education program. Age range from 16-24 with some exceptions. Our goal is to make this a free program for participants meaning we need help through sponsorships and grants.
Programs vary upon need and timeframe of agency asking for our assistance.
BASIC TRAINING RANGES FROM
6 weeks-12 weeks